About Key West Fishing Connection and Captain Daniel Zier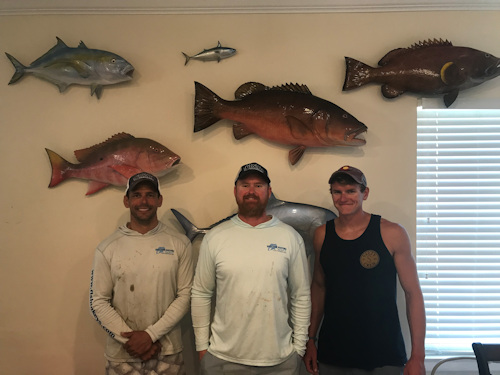 For the last 34 years, I have fished the full stretch of the Keys from the Dry Tortugas up to Miami and the Bahamas. I spent my first 20 years in Key Largo and the rest of my time has been right here in Key West. Growing up on the islands of the Florida Keys fishing was like second nature to me. All I think about every day is fishing! It has been that way my entire life. My first job was on a 65 ft party boat out of Key Largo. During my 7 years in that job, I learned how to fish the deep reefs for big snapper and grouper. Now, I own and operate my 37 ft charter boat. I have had my USCG Captain's License for over 8 years. What is most important to me, is that fishing is not just a job… it is what I LOVE TO DO.
I love to fish even on my days off. Just to let you all know how much we love our job, we even fish when we go on vacation. Panama, Costa Rica, Mexico, Bahamas, North Carolina and Massachusetts are just a few places we like to go. If you would have asked me when I was a boy what I wanted to do when I grew up, I would have told you that I wanted to be a Charter Boat Captain in the Florida Keys.

About The Crew
Most every day you will have me, the owner Daniel, as your Captain and Garrett as your First Mate. We are an owner-operated business!! A few weeks throughout the year I take some time for myself and fish a few different places around the world. I usually take these trips during our slow time of September, October and November. I have at least 4 different Captains / Mates that work with me when I need them. These are not only good friends, but fisherman that I have personally trained and fished with over the years. Captain Grant, Fish Sean, Pirate Sean and even my father David Zier will help out from time to time.
The full-time First Mate on the boat is Garrett Frey. Garrett is a competitive and fun young man at the age of 21. He is a licensed United States Coast Guard 100 Ton Captain as well. Growing up in Northern Indiana he learned to fish freshwater. Garrett moved to the Key West to study Marine Engineering and work on a charter fishing boat. He has lived in Key West for 4 years now and has his degree in Marine Engineering and is the full-time First Mate on the Second Nature. There are few people I know that are as good all-around fisherman as Garrett. He loves what he does and hopes to someday own and operate his own private fishing charter.