PRIVATE TRIPS ONLY
Featured Catch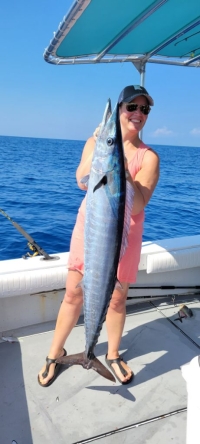 Caught these nice black grouper, mutton snapper, and yellow jack while bottom fishing on July 19th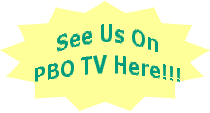 Current Weather

Captain Dan's Blog
Friday, October 13, 2017 - 3:41pm
13th October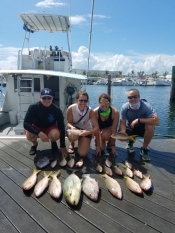 FINALLY!! Some awesome folks from New York booked a 4 hour trip with us today. We ventured out and did some reef fishing. Our friends landed over 20 yellowtail snapper including some flags, a keeper red grouper, a big yellow jack, triggerfish, and big sharks! Key west is open for business and as always is beautiful. The bite is on fire! Get down here and lets go fishing!!

As Seen On TV Videos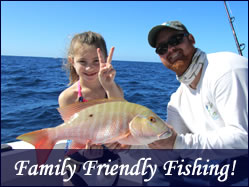 Tuna&Snapper
is RED HOT
Right Now !!!!!
Have a question? Click here to email Captain Dan Directly.
Fishing Calendar

Oct
Nov
Dec
Jan
Feb
Mar
Apr
May
Jun
Jul
Aug
Sep
amberjack
++
+
++
+
+
++
+++
+++
+++
+++
++
++
black fin tuna
+
++
+++
+++
+++
+++
+++
++
++
+
+
+
cobia
+
+
+
++
+++
+++
+++
++
++
+
+
+
dolphin / mahi mahi
+
+
+
+
+
+
++
+++
+++
+++
+++
++
grouper
+
+
++
++
+++
+++
+++
+++
++
+
+
+
king fish
+
+
++
++
+++
+++
+++
++
++
+
+
+
mangrove snapper
+
+
+
+
+
+
+
+
++
+++
+++
++
marlin
+
+
+
+
+
+
+
++
+++
+++
+++
++
Mutton Snapper
++
++
+++
+++
+++
++
++
+++
+++
++
++
++
permit
+
+
+++
+++
+++
+++
+++
++
Sailfish
+
++
++
++
+++
+++
+++
++
+
+
+
+
sharks
++
++
++
++
++
++
+++
+++
+++
+++
+++
+++
tarpon
++
+
+
++
+++
+++
+++
+++
+++
+++
Wahoo
+
+++
+++
+++
++
++
+
+
+
+
+
+
yellowtail snapper
+++
++
+
+
+
+
+
++
+++
+++
+++
+++

+ Fair

++ Good

+++ Excellent