Friday, December 24, 2010 - 6:47pm
Wrecking fishing in 215 feet.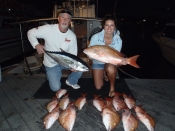 Today we ran a half day trip and the weather was beautiful. After getting bait over the reefs like we normally do we went out into some deeper water to do some wreck fishing. The first five baits were crushed by nice Mutton Snappers. We landed thirteen by the end of the day. The Black Fin Tuna then started to pop up, and while we only landed one, we had the chance to fight a few really nice fish. Also in the mix were Amberjacks and Kingfish.