Wednesday, March 16, 2011 - 8:19am
The Last Three Trips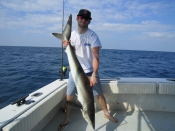 Sunday and Monday were busy days for us. On Sunday we fished a 3/4 day and than a 1/2 day right when we got back to the dock. On the morning trip we went out to some deep structure in 220 feet of water we like to fish. With a Mutton or two in the cooler we started loading up on nice schoolie Dolphin (mahi-mahi). Than we got into some sharks. First was a 5 foot Dusky that made for one awesome trophy. The next shark we hooked was a monster. A 500 pound Hammerhead came around our boat on the surface and took the bait. Over 3 hours and 3 miles later the fish broke out leader right at the boat.

The second half of the day was a little slower because of the wind and the current. We still caught a few nice Mutton Snappers, 8 Vermillion Snappers, and a few sharks. Definitely more than enough for dinner.

Our 3/4 day on Monday was a blast. We heard reports of good Dolphin catches in 300-500 feet of water and we had to go see. Right at 350 we found some sea grass with birds working on top of it, a very good sign. Not long after that we had a few schoolies in the cooler. We pushed out to 550 feet in search of something a little bit bigger but all we found was schoolie dolphins. We ended up keeping 10 of the fish we caught and threw back many more. Even the smaller dolphin are a blast on light tackle.