Tuesday, December 21, 2010 - 9:10pm
black fin tuna !!!!!!!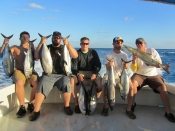 Fishing today was red hot! We caught 8 black fin tuna all close to 20lbs, 2 mutton snapper, 2 cobia, 2 king fish, 1 amber jack and released a 400lb bull shark. The best of the tuna fishing was right before we left for home. All the fish were caught on live ballyhoo.