Thursday, May 26, 2011 - 8:58pm
Staying Busy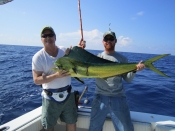 We have been so busy recently I haven't had a ton of time for the site. I am going to give you a little scoop on the last three trips. The first trip was a full day where we split time trolling in the bluewater for Dolphin and bottom fishing the edge of the reef for Mutton Snapper. The Dolphin bite is super inconsistent and on that day it wasn't to hot. We caught a few little schoolie Dolphin and threw back all but one. We came into the edge of the reef and the tide was working against the wind, which made bottom fishing difficult for us. We got some Yellowtails and called it a day.

The second trip was to the West for Muttons and once again the tide was not working in our favor. We made the best of the day and hooked some big Amberjacks in the 30 pound range. We also loaded up the cooler with fat Yellowtails while putting a few lines to the bottom for bigger Snapper and Grouper. Before the trip was over we hooked and released a 150 pound Sand Shark.

The third trip was another trolling trip. We found the cooler change in about 300 feet and put the spread out. We were working south when a rod went off in 550 feet. We fought the fish for about 20 minutes which ended up being a nice 20 pound Dolphin. We kept pushing offshore and came into to schools of smaller Dolphin here and there on weed lines in 800 feet and 650 feet. We got a few more strikes than headed in.