Sunday, May 29, 2011 - 10:15pm
Dolphin, Tuna, Muttons, Yellowtails, Goliath Groupers!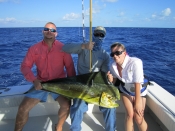 We started our 8 hour trip out today trolling in a few hundred feet of water looking for Dolphin. Right off the bat we hooked up with a 25-28 pound Dolphin that we fought and put in the cooler. After that we chased birds and weedlines looking for fish. We picked up a few more fish including a Black Fin Tuna. As the action slowed we ran inside and set up on a wreck to try for some Snapper. We caught both Muttons and Yellowtails here and a 200 pound Goliath Grouper.