Thursday, June 27, 2013 - 9:38pm
red HOT snapper bite !!!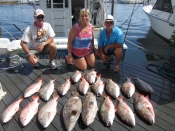 Today we fished a deep reef in 130ft of water about 10 miles south of key west. The action was non stop all day. We caught 17 nice mutton snapper up to 15lbs, 2 black grouper up to 25lbs, yellow tail snapper, released 1 big 30lb cuda, 1 small mahi, 1 Nassau grouper around 10lbs, 1 80+lb Goliath grouper and 5 or more sharks all over 100lbs. My people will sleep good tonight !!!!