Wednesday, April 27, 2011 - 9:16pm
Tarpon the in morning, Snapper in the afternoon.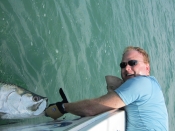 Today we had two trips. In the morning we fished in the harbor for some big Tarpon. On our first drift back we hooked into a 115 pound fish that dragged us all over the place for about 90 minutes. We got the leader touch for the official catch and the fish ended up wearing through our 60 pound leader. The next fish we hooked was in about the 90 pound range and after weaving in and out of the anchored sailboats we got her in open water for the release. The angler got the chance to reach over and grab his fish by the lower jaw which made for some awesome shots. (The picture above doesn't do this fish justice.)

In the afternoon our charter had one idea in mind...meat. We ran out past the reef and set up in front of a 158 foot wreck in about 90 feet of water. It wasn't long before we had the Yellowtails chummed up to the back of the boat. After 25 Yellowtails we decided to push out into the sand and try for some Mutton Snappers. We caught two really nice fish in the 7 to 10 pound range before we called it a night and came in.