Tuesday, March 1, 2011 - 6:18am
No more cooler space!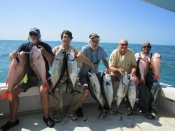 Sunday we fished with a group of guys that never let us come in on time, except this time we had to take the drinks out of the drink cooler to make space....and still ran out! At one o'clock we were heading for the docks sitting on our coolers to make sure the lids were down. The bottom bite for Muttons has been absolutely insane this past week. We put another 24 in the box over a 3 hour period which brings our 5 day total to 135. On top of that we threw 7 Blackfin Tunas in the coolers all of which were close to or over 20 pounds, great size for this fish. Looks like we will be bringing 3 coolers tomorrow, or maybe we should bring 4.