Sunday, June 1, 2014 - 2:15am
mahi, muttons and grouper !!!!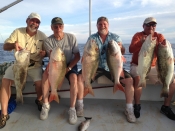 Yesterday we ran 2 trips. The morning trip we trolled out to 850ft looking for mahi. We caught close to 20 fish up to 10lbs. Nothing to crazy in the blue water but still a good catch. The evening trip we fished the edge of the reef in 130ft of water about 6 miles south of key west. The 4hr trip went great !! We caught 3 nice Gag grouper, 3 big mutton snapper and a few mangrove snapper.