Monday, February 11, 2013 - 11:59pm
Tarpon is here early !!!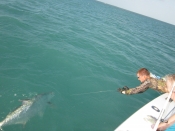 Today was our first day of this year tarpon fishing. The bite was great !!! We hooked, landed and released 2 big fish. The first fish was around 110lbs and the second around 90 or so. both fish hit pin fish using 7/0 circle hooks. We weren't the only boats hooking up. I must have seen 15 or more big fish hooked, lost or released today. It was awsome to see so many big fish and all the other boats doing good !!!