Saturday, August 20, 2011 - 10:12pm
Monster Yellowtails.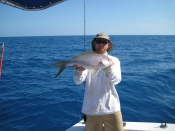 We started our full day in 200 feet of water trolling West to a Submarine wreck in 240 feet. It took about 2 hours to reach the wreck and it was a slow ride down fishing wise. Once over the Sub we marked some jacks and dropped Butterfly Jigs catching one Almaco Jack. We slid into the reef down here and put out the chum bag in 90 feet. It wasn't long before we started getting into some nice 3-4 pound Yellowtails. We also released 2 sharks that were both over 125 pounds and had a ton of fish eaten by monster Lemon and Bull Sharks. On the troll home we got into some Mahi Mahi and Bonitio to keep up busy.