Monday, January 10, 2011 - 7:46pm
Live Baiting For Sailfish.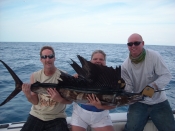 Today we slow trolled live Ballyhoo for Sailfish. The bait was thick and we loaded our well with Ballyhoo and Pilchards. 45 minutes in we had a double header and landed the second of the two fish. About 30 minutes later we had another hook up but after a short fight the hook pulled free.