Saturday, May 7, 2011 - 9:44pm
Amberjacks and Yellowtails.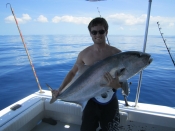 The other day we ran a trip with some guys from Miami that came to us with one purpose, Flag Yellowtail Snapper and Black Grouper. We loaded the cooler that day with big Tails some Muttons, and a big Margate. Though we didn't land any big Black Grouper we hooked at least 6 of them losing them to a wreck nearby.

Today we started off looking for Permit but after no success early we quickly changed game plans. We made a run to the East and started fishing a big wreck. Covering all bases I had two big rods down for Sharks and Goliath Groupers, two rods down for Muttons and Black Groupers, and two rods for Yellowtails. With very little current the Yellowtail bite was really good. Since we were in 140 feet all the fish were nice 2-3 pounders. We put maybe 10 or so whole Tails in the cooler, the rest were eaten by Barracudas and Amberjacks. There was pretty much non stop action. We hooked 2 Goliath Groupers in the 300 pound range and boated a 48 pound Amberjack. Also we caught a Mutton and another big Margate while Yellowtailing.