Monday, August 13, 2012 - 5:42pm
reef sharks adn muttons !!!!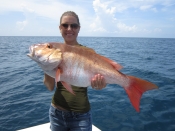 Today I fished a deep wreck in 190ft of water about 13 miles south west of key west. We released 2 big 7ft caribbean reef sharks, put 3 mutton's and a big yellow jack in the cooler. We also trolled for a few minits and caught 12 or so bonito for bait.