Thursday, March 29, 2012 - 9:30pm
big yellow tail and muttons !!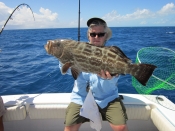 Today we fished a full day! I started out fishing for yellow tail in 80ft of water. We caught 25 monster tails up to 3 lbs, 24" fish. When the snapper bite slowed I pushed out a little deeper off the edge of the reef. There we caught muttons up to 15lbs, 1 big cero mack and 2 big margates and released a 25lb black grouper.