Tuesday, July 24, 2012 - 9:30pm
non stop action !!!!!!!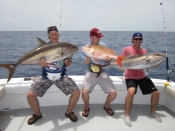 Today I fished 2 different wrecks. The first was in 170ft and the other was 220ft. The action was non stop all day. We caught 15 sharks up to 40lbs, 8 mutton snapper up to 18lbs, 8 or more amber jacks up to 40lbs, 1 african pompano, 15 or so bonito, 1 king fish, 1 cero mack, 1 big porgy, 1 big cuda and 2 small mahi. The only fish we kept today was the mutton snapper, porgy and the bonito for bait. The rest we released!!