Monday, August 30, 2010 - 4:23pm
hot yellow tail bite!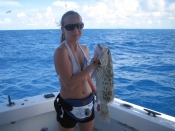 Yesterday the yellow tails were non stop! We started the morning fishing on a ship wreck in 90ft of water. There we caught a keeper gag grouper and about 20 yellow tail snapper. I fished another wreck in 170 but no luck. After trying the deep water I went to the edge of the reef in 70ft of water and caught lots more yellow tails. We finished the day going for a swim on the reef. I jumped in and added 6 nice lobster to cooler full of snapper.